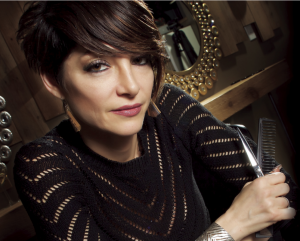 Roshan Tayefemohajer reached stratospheric success after attending Beau Monde Beauty School for Hair Design Training. After training, and working at a number of salons (as well as doing freelance) her career blossomed. She is now the owner of Glow Boutique Salon, located at 736 NW 11th Avenue in the Pearl District. Tayefemohajer cannot remember a time that she wasn't doing hair. For her, beauty has been a lifelong passion and pursuit.
"I graduated from Wilson High School in the early nineties and was all set to attend [Oregon State University] in the fall," says Tayefemohajer. "My dad is originally from Persia, and he totally has that immigrant mentality about hard work and having a plan. He wanted to know exactly what my plan for the future was before he was going to pay to send me off to school, but I really didn't have one." Tayefemohajer spent several weeks thinking about what truly made her happy and if she could turn her passions into a career. She was a bit scared to tell her father that what she really wanted to do was work as a hair stylist. To her surprise, he was completely supportive, so she started beauty school at Beau Monde College of Hair design in 1993, at the age of 17. After graduation, she immediately found work assisting in an Aveda salon in Beaverton, then worked around the Portland area doing hair and makeup until she moved to Las Vegas in 1997. In Vegas, she freelanced doing hair and makeup for TV and photo shoots, eventually landing a position at the highly regarded Diva Salon, one of the top salons in the country. This experience provided quite an education for Tayefemohajer. She returned to Portland four years later and worked behind the chair at two top area salons before eventually opening Glow in 2008.
Her first location was in a venue across the street from Glow's current address. The space was small, but successful. "We had four chairs with 10 stylists and were open seven days a week," Tayefemohajer recalls. "It got to the point that I finished training an assistant and had nowhere to put her. I knew then it was time to find a bigger space."
Glow opened up their current location in February of 2012 and have grown steadily since that time. They are one of the few Portland salons to be open seven days a week. Glow provides services for hair, nails, a complete suite of esthetics, and laser hair removal. All retail products offered are environmentally friendly and free of harsh chemicals. The salon is currently expanding to accommodate 25 stylists at 16 stations, adding a hair floor six times larger than the already impressive space the salon occupies today.
When asked if there is a single factor that has led to her success, Tayefemohajer smiles. "I love what I do, helping people look and feel their best," she says. "But really, it's all about relationships. I have clients who have been with me for nearly 20 years, and building those connections is a huge part of this. I also love helping my stylists and team to be successful, and we want clients to come in here and have fun, to feel welcome."
Take a cue from Tayefemohajer's experience and remember that in addition to offering a great product, creating a welcoming salon and maintaining good relationships is essential to success!
This blog post is based off of the article "Go With the Glow", written by Tanis Logan-Morris | photographed by Tim Sugden