Get the Skills to Be a Professional Hair & Make-Up Artist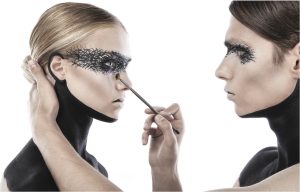 Hair Design & Esthetics Training Program in Portland, OR
Hair Designers and Estheticians both use their training, creativity and personality to connect with clients and help them to look and feel their best. These two services are incredibly complementary. Professionals who are able to offer both high-end hair and esthetics service may find increased employment opportunities and enjoy higher client retention.
If you're a stylish, social person interested in hair, make-up and skincare, you owe it to yourself to explore your potential as a beauty professional.
Becoming a Well-Rounded Beauty Professional
The Hair Design & Esthetics Program from Beau Monde Academy provides the hands-on training, practical experience and industry support it takes to become a highly qualified beauty professional.
Through guidance by experienced industry professionals you'll be equipped with the skills, techniques and knowledge it takes to turn your passion and drive into a rewarding career. You'll learn:
Special Occasion Hairstyling
Shampooing Hair
Chemical Hair Relaxers or Straighteners
Permanent Waves
Coloring & Highlighting of Hair
Wig treatments
Cosmetic Application
Temporary Body Hair Removal
and More!
This fun, online quiz takes 3-minutes to complete and you'll get a personalized report. Identify your strengths and social style plus the training and positions you're best suited for. Get Your Career Training Readiness score now.
It has been my extreme pleasure to work with this school and see the degree of professionalism from young talent. The commitment to see each and every student excel in the beauty industry is unparalleled. I look forward to helping shape and style Beau Monde Academy students for years to come.
Combining specialty services allows you to offer a wider range of advanced services and can open up additional employment opportunities.
---
The Only Accredited Competency Cosmetology College in America That Offers Federal Financial Aid to Those Who Qualify!
---
A great advantage to choosing Beau Monde Academy as your school is that we are a Competency-Based school. This means that when you have demonstrated mastery in a skill, you move on to the next module; your training is individual so you take only as long as you need to excel.
CHECK OUT THE DIFFERENCE
 Competency (estimated hours/weeks)
 Traditional Clock Hour Program
 Hair Design + Esthetics
 975 hours
 28 weeks
 1594 hours
Hands-On Experience in a Real Salon
You don't learn to perform professional hair and esthetics services just from textbooks – you learn it on the salon floor. As a student in this program you'll have the opportunity to work with real clients in our on-campus salon.
Under the guidance of experienced cosmetology educators you'll provide clients with the same types of services offered in high-end salons or spas.
You'll enter the professional world with confidence, fully prepared to build your client base, after gaining so much direct, real-world experience before you graduate.
Get the Support You Need to Launch a Successful Career

This training is about more than a certificate to hang on the wall – it's about getting a career you love. Beau Monde Academy is dedicated to supporting you throughout your career. Experienced Career Services professionals are happy to offer support and help you pursue employment opportunities.
Financial Aid is available for those who qualify.
Is a Rewarding Beauty Career Right For You? Get More Information…
If you're interested in learning more about careers in the beauty industry, and exploring whether a future in Hair Design and Esthetics is right for you, fill out the form on this page and receive more information.
To speak to a friendly and knowledgeable Beau Monde Academy Admissions Representative, give us a call at 503.252.1638.