Get the Skills to Be a Beauty School Instructor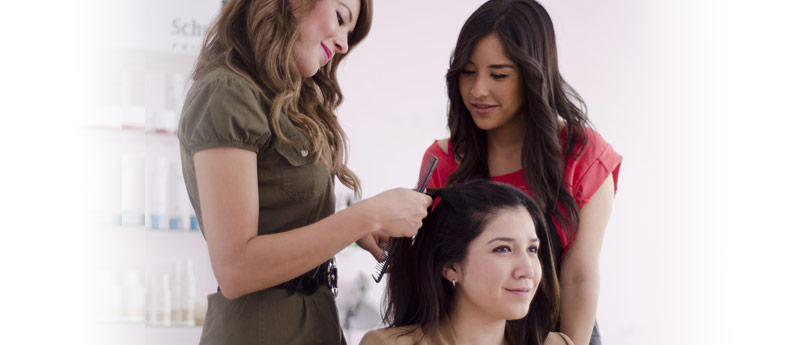 Cosmetology Instructor Training Program in Portland, OR
If you're a licensed Cosmetology Professional who is passionate about the industry and interested in helping new professionals develop and succeed, you could have what it takes to become a valued Beauty School Instructor.
Becoming a Confident Cosmetology/Esthetics Instructor
The Teacher Training program at Beau Monde Academy provides the hands-on training, practical classroom experience and dedicated support it takes to become a qualified instructor.
This program is designed to give you basic teaching skills, educational judgments and proper work habits, all through the guidance of our experienced and dedicated instructors.
Each of our courses consists of theoretical and practical instruction. The curriculum is designed to instruct a teacher trainee in basic teaching methods using Mindful Teaching materials while utilizing interactive education and DVD technology.
This fun, online quiz takes 3-minutes to complete and you'll get a personalized report. Identify your strengths and social style plus the training and positions you're best suited for. Get Your Career Training Readiness score now.
It has been my extreme pleasure to work with this school and see the degree of professionalism from young talent. The commitment to see each and every student excel in the beauty industry is unparalleled. I look forward to helping shape and style Beau Monde Academy students for years to come.
---
The Only Accredited Competency Cosmetology College in America That Offers Federal Financial Aid to Those Who Qualify!
---
A great advantage to choosing Beau Monde Academy as your school is that we are a Competency-Based school. This means that when you have demonstrated mastery in a skill, you move on to the next module; your training is individual so you take only as long as you need to excel.
Hands-On Experience in a Real Classroom & Teaching Salon

This comprehensive Teacher Training Course provides a classroom atmosphere which allows you to apply the practices and theories you've learned while under the supervision of a licensed educator.
This program offers a good balance between practical, real-world experience, like leading actual cosmetology and esthetics classes on your own, and dedicated guided support.
Get the Support You Need to Launch a Successful Career

Teacher training isn't about getting a certificate to hang on the wall – it's about getting a career you love. Beau Monde Academy is dedicated to supporting you throughout your career. Experienced Career Services professionals are happy to offer support and help you pursue employment opportunities.
Financial Aid is available for those who qualify.
Is Cosmetology/Esthetics Teacher Training Right for You? Get More Information…
If you're interested in learning more about careers in Cosmetology/Esthetics Teaching, and exploring whether this is the right path for you, fill out the form on this page and receive more information.
To speak to a friendly and knowledgeable Beau Monde Academy Admissions Representative, give us a call at 503.252.1638.